While the rest of your home may follow conservative designs such as industrial, mid-century modern, or minimalist, your game room can have a little more flexibility. Due to the nature of a game room, you can have some fun with the design! That means you can get creative and embrace color and unusual themes. 
To help you design your game room, we're going to offer some basement games room ideas. This will help you transform your games room into the coolest room in the house. If you're looking for a one-of-a-kind games room, then keep reading! 
Basement Game Room
Before diving into some design ideas, it's important to understand why your basement is perfect for a game room. Though there are likely other spaces in your house, the basement offers unique benefits. Three of our primary reasons for recommending a basement include: 
Hide the mess.

Games rooms are meant to be tidy all of the time. After all, when you host game nights and cocktail nights, it's easy to get a little messy. Because of that, having an out-of-sight area is preferred. This way, the untidiness, and clutter stay out of your main living area. 
Get bold with the design.

In your main living area, you probably aim to keep everything cohesive. It's likely that your living room complements your kitchen. However, we recommend having some fun decorating the games room. If it's in the basement, you won't have to worry about themes and colors clashing. This offers more freedom for you to be bold and edgy. 
Noise control.

Have you ever had a group of people stay quiet? Unlikely. Furthermore, it's not as much fun that way! With the games room being in the basement, you get some sound control. This way, the rest of the family can continue on without disruption. 
Now, for our 8 top design ideas for your games room! 
1. Swanky Lounge 
A premium games room will include a wet bar. You'll want a mini-fridge to house cold beers and cocktails. If you appreciate a cold beverage, then consider choosing a swanky lounge theme. 
To do this, pull on inspiration from your favorite 1920s lounges. Choose moody, edgy colors for your walls and floors. We love emerald green paint for this theme. Choose elegant fabrics such as velvet for the chairs and dim yet elegant lighting that sets the mood. 
2. Hockey Night in Canada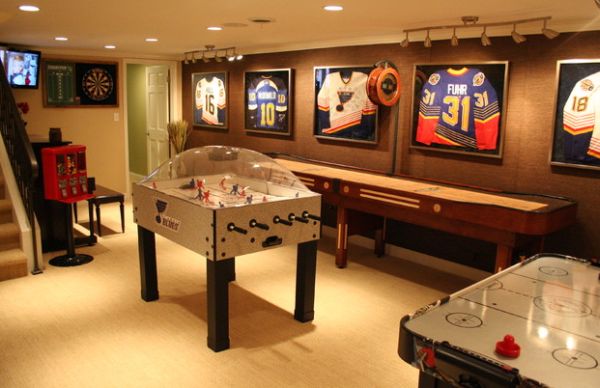 Canada is known for hockey! However, every American that loves the sport can pay tribute to the Canadian's great love of the game. To achieve this unique theme, include bright lights in your space. Adding a foosball table is an excellent way to elevate this theme. 
Aside from that, throw in some neon lights, sports memorabilia (such as jerseys), and paint that represents your favorite team. Include lots of seating to watch the game with a group of your friends. 
3. 90s Arcade
The 90s were a great time period. Known for its bright colors and wacky designs, it was a standout in design history. In better news, you can incorporate this decade into your games room! 
To achieve this, don't be shy with color and patterns. Get bold. Make sure to include neon signs. For entertainment, throw in old-school arcade games such as PacMan. These can be an investment, but they are well worth it. Old Coca-Cola signs and 90s TV posters are great wall decor. 
4. Rustic Cabin
There are few things cozier than a rustic cabin. Bring the warmth into your games room with this theme. Rustic accents often include a lot of wood. Pull-on nature to inspire your design. Incorporate some metals. 
If you can install a fireplace in your games room, even better! A wood-burning fireplace is very reminiscent of any forest cabin. If you include color, have ones that can naturally be found in nature, such as forest green. Add throw pillows and fur accents where possible. 
5. Tribute to Heritage 
Some heritages have incredible designs and patterns! For example, if you're Scottish, you can easily include the Scottish heritage into the room. To do this, use plaid where necessary and add a family crest. You can include pictures of Scotland. 
Furthermore, if you're Irish, you can include Shamrocks in the room. For Sicilian people, you can draw on the traditional Sicilian style. Have fun and play up this unique part of you! 
7. Southern Bar
If you want to draw attention to the bar without a swanky lounge, consider modeling the room after a Southern bar. Imagine what an old watering hole in Alabama or Tennessee would look like. Often, these bars feature pool tables, neon signs, and odd rustic features. 
A Southern bar theme is incredibly unique and will provide a one-of-a-kind feeling every time you enter your games room. 
8. Monte Carlo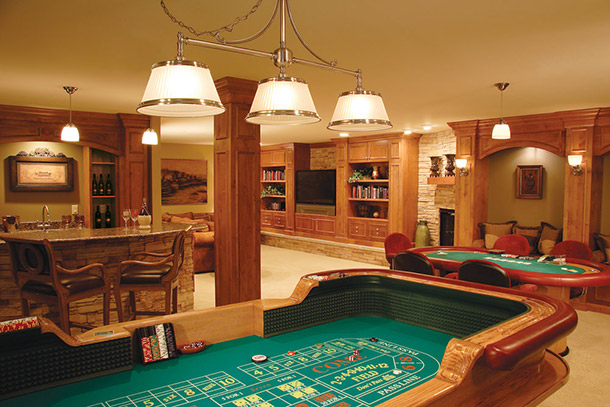 Are you a big gambler? Bring the well-loved Monte Carlo theme to your games room. If you're thinking of a poker or blackjack table, this theme is perfect for you. To achieve a Monte Carlo theme, you'll want to include elegant accents in the room. This may include a fancy chandelier, plush seating, and textures. 
To really achieve this look, include rich color hues such as reds, blacks, silvers, and golds. Play on metals and fancy features. 
9. Bright-Colored Modern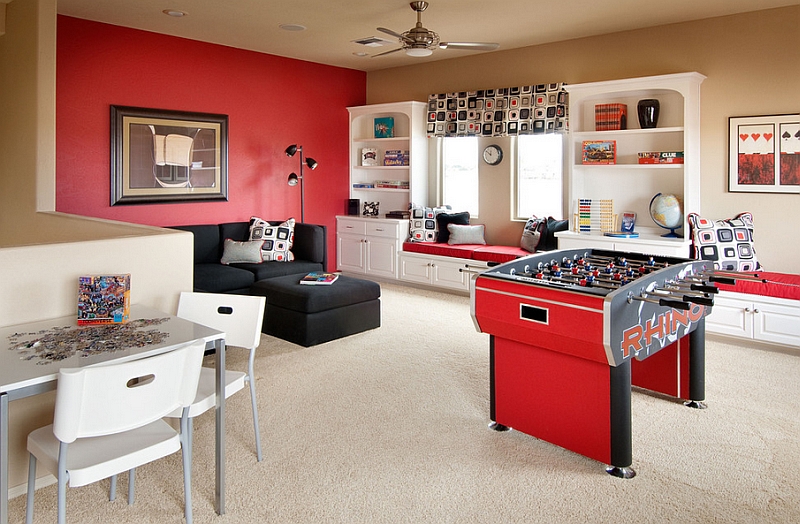 A modern theme is often used in houses. However, you can bring it one step further. Use modern accents that are monochrome and simple; However, add some excitement to it. Consider accenting with a bright color. 
Some of our favorite color options are bright red, bright orange, or eye-catching blue. Accent with these colors for a crisp and unique games room. 
You can also check our article on How to Create a Personal Game Room at Home.
Conclusion
Are you ready to turn your games room into a place you're proud of? A games room is the best place to entertain and really emerge yourself in light-hearted fun. 
We hope you can apply some of these basement games rooms ideas to make your space feel fun and welcoming. To really achieve a space you're proud of, take your time and look for the perfect decor to compliment your design.