A lot of adult love playing air hockey. Aside from billiards, this is one of the table games that they will always play in a game room, especially those who are very competitive. But, it's not only a game for older people because kids can now enjoy the best air hockey table.
When it comes to air hockey tables for kids, we are looking at the mini versions. If you want to let your kids play this amazing game while they're still young, we listed down a simple buying guide to help you along with our top picks.
Choosing an Air Hockey Table for Kids
When you're looking for an air hockey table for your children, you need to consider a few important factors. Take note that air hockey is made for adults, so the standard size is too big for the kids to play. If you want your children to enjoy and learn how the game is played, you need to buy something that is made specifically for them. Here are a few things that you need to know.
1. Size
The size of the air hockey will depend on the age of the children who are going to play it. There are hockey tables with a measurement of 4 to 7.5 feet long. They are usually made for 9 to 12-year-old kids. There are mini versions as well with a measurement of 20 to 50 inches.
The standard size is 8 feet, so if you want your kids to fully enjoy the game, it's better to start with the mini versions. You can put them on a small table so your kids can play to their heart's content.
2. Puck
When choosing an air hockey table, you need to check the size of the puck. You can either get a small or a large puck depending on the type of hockey table you bought.
For kids, a small puck is the best option because it's not too heavy. Smaller hockey tables can only create a fan that puts pressure on small pucks, so if you use a bigger one, it will not work properly. The same goes with larger pucks. If you use the smaller pucks on bigger air hockey tables, the pressure would be too much that the small pucks will fly off the table.
3. Best Quality Materials
No matter what type of air hockey you're going to buy, you have to make sure that it's made from the best quality materials. You don't want a table game that would get wrecked in just a few uses. Remember that your air hockey table can last for more than a decade if it's made from high-quality materials.
If you plan to buy an air hockey table for your kids, you can get the mini version first then you can buy something more expensive and high-quality when they grow older. The mini versions are replaceable, and they are meant to teach your children how to play. The quality of the materials would be an important factor when you're buying a standard air hockey table.
4. Appearance
Your kids won't even be interested in playing a dull air hockey table. If you are going to buy one for your kids, make sure that the design can easily capture their attention. Most of the air hockey tables made for kids are very colorful, and they usually come in different designs. You can let your kids choose the one that they want.
5. Price
Buying an air hockey for kids doesn't have to be super expensive. It is only a simple toy to help your children learn how to play the game. There are so many affordable options available in the market. It's a waste of money to spend too much on a mini version.
Top Air Hockey Table for Kids
1. Matty's Toy Stop Deluxe Mini Table
Matty's Toy Stop Deluxe Mini Table is an amazing pick if you have kids who are still around 4 to 5 years old. This table is very small as it's only 21-inches long. The best thing about this is that you can bring it anywhere you want. It's not too heavy, and it won't take too much space in your car as well.
Another amazing thing about this is the battery-powered airflow. Some small tables don't have any air, which makes them a simple knock hockey at most. If you want your children to get started with air hockey, this is a good start.
The only thing that it lacks is electronic scoring, but it's not a big deal since kids won't really care about scoring at the beginning.
2. Harvil 40-Inch Tabletop Air Hockey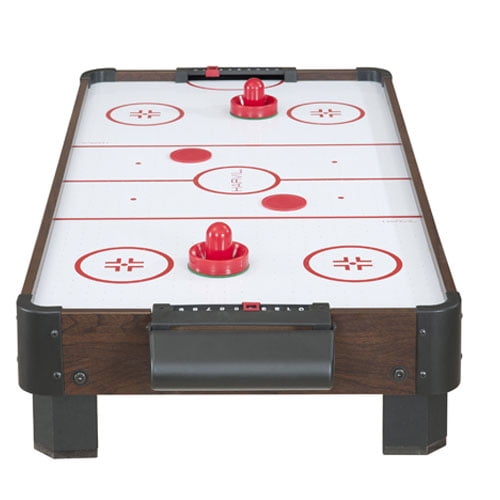 The Harvil 40-Inch Tabletop Air Hockey is a bit bigger compared with the previous model, and it is usually meant for 7 to 9-year-old kids. This is the next option after getting the mini version. This is a good way to introduce the actual game to your kids because it is almost the same as the standard version. It already comes with an AC-12V powered motor, so you can expect that it provides better airflow than the other models.
As a matter of fact, even adults can enjoy this game if they have nothing to do. But, don't expect this air hockey table to provide the same air pressure as the standard models.
3. Mainstreet Classics 35-inch Tabletop Hockey
The Mainstreet Classics 35-inch Tabletop Hockey is a bit smaller compared with the Harvil, but the design is definitely on a different level. A lot of people are buying this model simply because of its cool design.
Well, it's an amazing pick because it's portable and it is powered by an outlet. This would allow your kids to have enough airflow and play for a long time.
You can also check our article on The 9 Best Air Hockey Tables of 2021.
Conclusion
Your kids will surely love a mini version of the air hockey table. Instead of letting them play on their devices the whole day, get them a small tabletop air hockey. You just have to know how to choose the best one.
If you want to look for the best air hockey tables for both adults and kids, you can check out some of the available options on the Internet.