Have you ever been in someone else's game room? What are the games that you've played? Are there any specific table games that you will never forget? Gaming rooms became very popular because of the pandemic, and if you've ever visited other game rooms, you will notice that they all have the best foosball table.
Foosball is one of the most popular table games that you can play. It makes sense that you can see different styles and designs because a lot of people play this game due to its competitive nature. If you're planning to buy one for your room, here are a few suggestions that you can consider.
Best Foosball Table
1. KICK Legend Foosball Table
The KICK Legend Foosball table is an all-around item that you can use in different gaming rooms. The design and the size are just enough for any interior you might have in your house. This foosball table is made for intermediate to advanced players, which means that you should already know how to play it if you're going to buy this.
Foosball is an amazing game, but it's not fun to play against someone who already knows how it's done. Remember that foosball is like a traditional football, but it is played at a table. It would take time to learn how it's done, and you still need to do a bit of research. It's not a bad idea to get this type of foosball table, but make sure that you spend time practicing.
The item itself comes with an unlimited lifetime warranty, so if there are any defects, you can call their customer support for help. There are 1 or 3 goalie configurations which would depend on the preference of the player. It comes with counterbalanced foosmen as well.
2. Barrington Allendale Foosball Table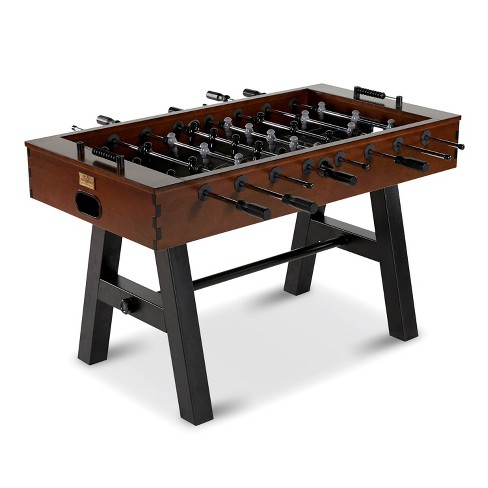 The Barrington Allendale Foosball Table is extremely enticing the first time you see it. The design, the color scheme, and the overall appearance of the foosball table are definitely out of this world. It is one of the best-looking foosball tables on the list, which is also the reason why it is a popular pick. Even if you will only use it as a design for your gaming room, it would look magnificent.
This foosball table is made with a modern A-style leg design. It provides better stability when you are playing with your friends. It also comes with sophisticated wooden paneling, giving more sturdiness and style to the table. The whole foosball is also made with premium quality oak wood so it would fit almost any type of interior design.
As for the foosball players, they are made from metal and the black playing surface provides a bit of a modern vibe to the game. The only drawback is that this table would take two to three hours to completely assemble. There are also no curved edges on the table, so the kids should be very careful when playing around this foosball table.
3. Rally and Roar Foosball Tabletop
Foosball is not only a game for adults. Although it is very hard to play, kids will surely love it. When the players are not skilled, they can fully enjoy this game.
The Rally and Roar Foosball Tabletop are made especially for kids. You don't need to play by the rules. The kids can just play it however they want. This foosball is versatile and compact since it is not too heavy. Weighing about 22 pounds, you can bring it up and take it anywhere without breaking a sweat.
It is well-constructed for a tabletop game, but you can't expect that it is made from high-quality materials. Since it is made from kids, the game itself is made from MDF and plastic. It is sturdy enough for the kids, and they would really enjoy playing it since the players are not too heavy.
This model is designed to capture the attention of kids, so there are many color combinations available. This type of foosball table is usually pre-assembled, but you would need at least 15 to 30 minutes to add all the components.
4. Atomic Pro Force 56″ Foosball Table
If you're still new to Foosball and you have no idea how to play it, you should get a table that is made for beginners. The Atomic Pro Force 56″ Foosball Table is the perfect choice if you are just starting to learn about the game. Everybody starts as a beginner, so it's not a bad idea to practice for a while and learn about the rules.
The Atomic Pro Force 56″ Foosball Table can be placed in a gaming room, but only beginners would play it. If you have a lot of friends who already know how to play, they would prefer a more advanced foosball table.
This is the perfect pick if you're on a tight budget. This is an entry-level model, so the price is not too expensive. It has all the basic features that you need, so it is definitely a good pick if you need to save money.
Foosball is not only made as an indoor table game. Just like table tennis, you can also bring it out and play with your friends outside of the house. However, you need to choose a specific model to make sure that it won't get damaged when you place it outside, just like the Garlando G-500 Foosball Table.
The Garlando G-500 Foosball Table is coated with waterproof and anti-rust treatment. so even if you leave it outside, it won't easily get damaged. The surfaces are very easy to clean as well. If you are having a barbecue party outside and everyone is eating, you won't have to worry about the table being stained.
The telescopic rods come with anti-rust chromium plating, and the playing surface is made from plastic laminate.
You can also check our article on The 9 Best Air Hockey Tables of 2021.
Conclusion
As you can see, this list offers a wide range of options, and there is always a specific foosball table depending on your preference. Always remember that choosing the best foosball table will depend on your personal choice and situation, so make sure that you consider everything before you choose.
If you are looking for a wide selection of amazing foosball tables, you can find a lot of different models and designs on the Internet.