Air hockey is one of the best indoor entertainment that you can play as it involves your hand-eye coordination. It would take a lot of skill and concentration to block and knock the puck to the opponent's goal. This is the reason why a lot of people include an air hockey table in their game rooms.
It's not as difficult as playing billiards and foosball. All players are equal once they hold the strikers. While skill plays an important role in winning, it's all about knowing where the puck will go and the ability to knock it up and prevent your opponent from scoring.
If you plan to add one to your game room or you simply want a table game for your children, we listed down a few air hockey tables that you might like.
List of Air Hockey Tables
1. MD Sports 84" Air Powered Hockey Table
The MD Sports 84" Air Powered Hockey Table is on the top of the list, and it is one of the most popular choices of homeowners and game enthusiasts. Compared to the other two-player hockey tables, this one is a bit bigger, with dimensions of 82 x 42 x 32 inches.
This hockey table is on the bigger side, so if you plan to get one, make sure that you have enough space in your house. Once you've brought it to your house, building it is not too difficult. Even beginners will not have a hard time assembling the parts.
This big playing surface is scratch-resistant, which means that it provides a certain protection against damage. Even if you play rough against your opponent, it won't get scratched easily. Because of its 120V motor, the airflow is always consistent, and it would prevent any interruptions during the game. There's a large LED screen where the players and viewers can check the scores along with amazing sound effects.
However, this hockey table is very expensive, so make sure that you check your budget before you buy it.
2. Atomic 90-Inch 4-Player Air Hockey Table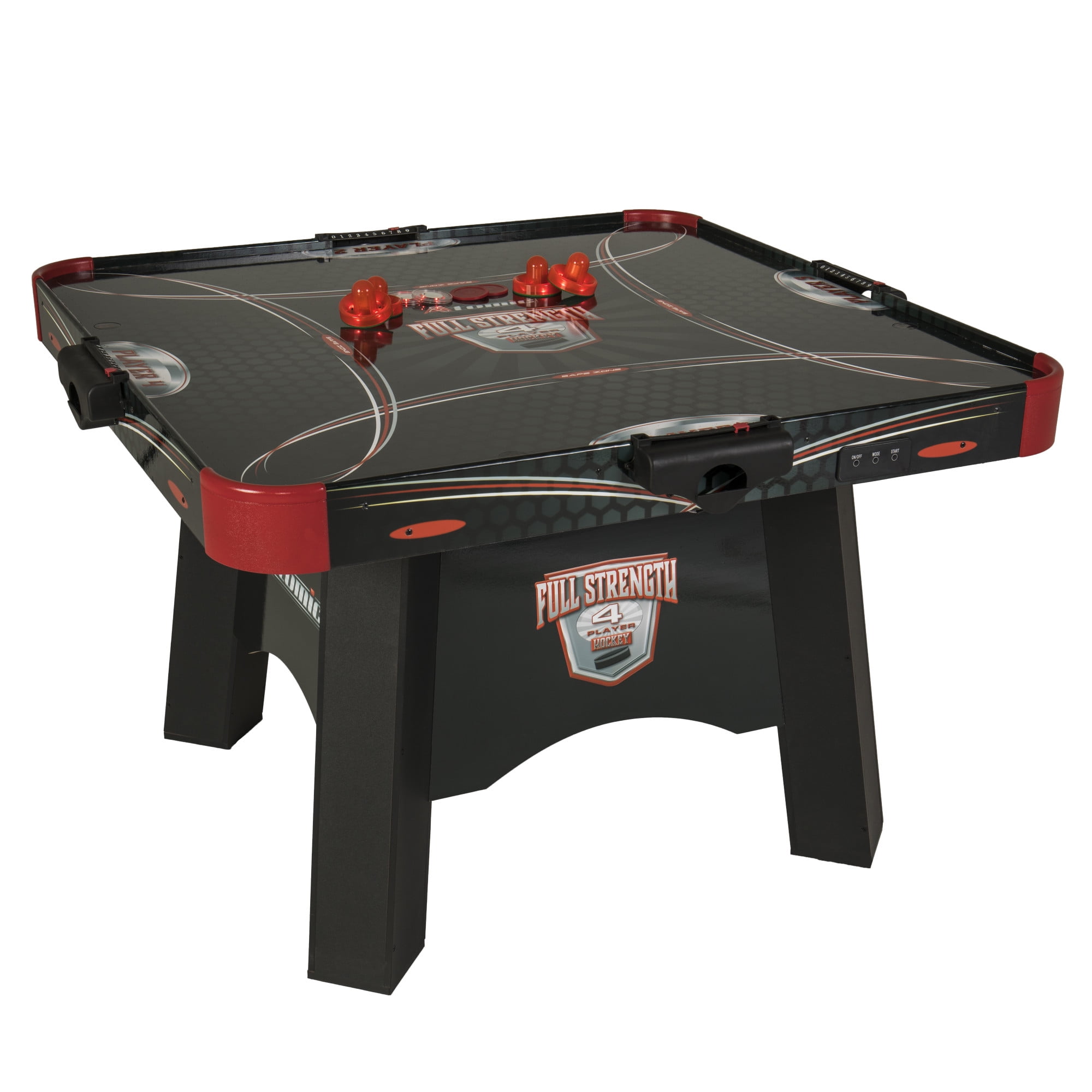 It's great to buy a regular two-player hockey table, but nothing beats a 4-player model. The Atomic 90-Inch 4-Player Air Hockey Table allows four people to play air hockey, making it a great choice for group activities. Take note that while this hockey table is an amazing addition to your game room, it takes a lot of space. It has dimensions of 90 x 50 x 31 inches, so it's extremely huge. It also weighs 227 pounds. It would take 2 to 3 people to carry it.
Just like Badminton and Table Tennis, you can also play doubles with air hockey as long as you have a 4-player model. This Atomic hockey table is extremely popular because it comes with amazing features that would make your gaming experience more fun and exciting.
There's a large motor fan that blows air to the pitch. The LED rail lighting offers amazing effects while the game is ongoing. There is a digital scoreboard that would record your scores as well.
The only issue with this hockey table is the scoring. Since there are two people on both sides, there are instances where the score will not update automatically, or it will show the wrong values.
3. Hathaway Midtown 6-Foot Air Hockey Table
Many of you are probably looking for an air hockey table not only because of its functionality, but also the looks. The Hathaway Midtown 6-Foot Air Hockey Table is the perfect choice if you want a table game that would fit perfectly on the interior of your game room.
Hathaway Games really made an amazing design as it was created from medium-density fiberboard (MDF). It comes with a cherrywood laminate finish along with a thermoplastic pitch. It exudes an aura of retro, chic, and sporty, making it a popular choice if you want to make your game room more beautiful.
However, this air hockey table is more than just its appearance. It comes with leg levelers, an automatic puck-return system, a 100-volt air motor, and a digital scoreboard.
4. Point Games Electric Powered Air Hockey Game Table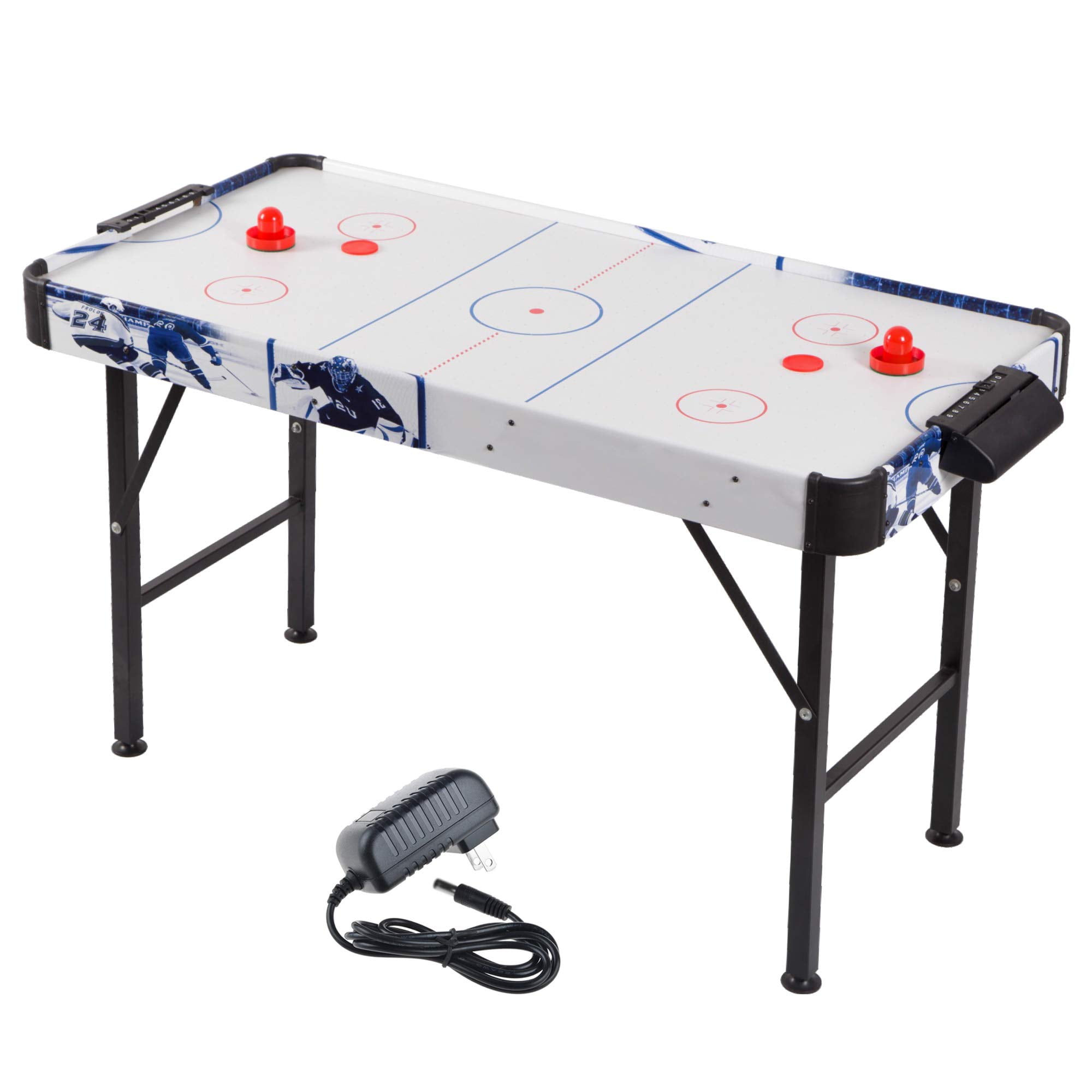 If you want an air hockey table that you can bring anywhere you want, Point Games Electric Powered Air Hockey Game Table is the best one in the market.
As the smallest air hockey table on the list, you can expect that it's also very portable. We understand that you're looking for a model that you can bring with you and your family during vacation. If you don't care much about the overall appearance of the product, this is perfect for you. You can take it out in your garden, or you can bring it with you to your camping grounds.
Even if the design and features are not too amazing, it still has the basic features that you want from an air hockey game. It has a 12V-DC motor that will keep the air flowing every match. There are scorekeepers on both sides so the players can keep track of their points.
It is very easy to keep as you only need to fold the legs inwards and store them inside your house.
People who are looking for the ultimate hockey table can check out Gold Standard Games Home Pro Elite. As the name implies, it is a popular pick if you want to use professional-grade hockey tables.
One of the key points of this hockey table is its laminated playfield. The playfield is so durable that you won't expect any scratch from it even after using it for several years. It is also framed with aluminum rails to make sure that you can experience the best games. The tabletop is also designed to simulate the feeling of playing in a competitive environment.
The only drawback is that this air hockey game is too expensive. Since it is made from high-quality materials, you will have to spend a lot of money on this.
You can also check our article on the 12 Pro Tips for Buying an Air Hockey Table.
Conclusion
Air hockey is a fun and competitive game that kids, adults, and even seniors can enjoy. There are not a lot of differences when it comes to the different air hockey table models, but it's better to know your options before you buy. Remember that some of them are made from high-quality materials, and some are made from cheap items.
Are you looking for the best air hockey tables for your home or game room? We have a wide range of options available for you.