If you have a games room or a family room, it's important to add an element of fun. For some, this might be a pool table. However, others opt for the much-loved air hockey table. Air hockey tables allow for a tabletop scoring experience. With a light flow of air that comes from the table, the puck glides effortlessly back and forth. 
Air hockey is a two-player game. It's fun with easy rules and good for most ages. Air hockey can get competitive, and you can get lost playing it for hours. If you're looking for an air hockey table, there are some things you should know. 
We've outlined the best air hockey tables for you to shop from.
The Best Air Hockey Tables 
To find the perfect air hockey table for your game room, you must first understand the different types. Determine a fair budget and who the players are most likely to be. We'll outline the types of tables on the market and then discuss what our favorites are. 
Types of  Air Hockey Tables
There are three types of tables to choose from. First, outline how intense you'll get during play. Secondly, determine the size of the area you have in your home for it. From there, you'll be able to find the best air hockey table for you.
The three types of tables are:
If you're an occasional player and don't want to commit to a full setup, a tabletop option is good for you. Tabletop air hockey tables often fit on standard kitchen tables. They are about three or four feet long. This means that you don't have to commit to a large, semi-permanent machine in your home. This option is also good if you have limited space. When you want to play, bring it out. When you're done, you can put it away for storage. 
We wouldn't necessarily recommend this option for serious players. The constant back and forth can be a bit of a hassle. However, a large benefit of tabletop air hockey is that it is one of the least expensive options. If you're on a tight budget, this is a great choice. We've outlined one of our favorite tabletop games down below.
If you want to have a few different game options in your game room, a combination table is an excellent choice. Though more expensive than the tabletop, they are the best bang for your buck. Convert your table into ping pong, foosball, or a pool table. 
Expect to pay more than $500 for a combination table. Though this is pricey, it's a great option for several different gaming opportunities. However, if you're a big game person, you might opt for an arcade air hockey table. 
Do you take your air hockey games very seriously? Are you looking to invest in the most high-quality table on the market? An arcade-style machine is a way to go. These are similar to the games you'll see in a traditional arcade. They are large, rather bulky, and set up for a competitive game. 
Arcade tables have more features than tabletop and combination tables. With these, you can expect a good amount of airflow and even scoreboards to keep track. These tables are the largest of about six to eight feet long. You can find some arcade tables for as little as $100. However, spending more is sure to pay off in the end. 
9 Best Air Hockey Tables
We've chosen our nine favorite air hockey tables of 2021. Keep reading to find the best option for you!
1. MD Sports Air-Powered Hockey Table
Not only does this arcade-style table look good, but it performs well too. It is sleek and modern while offering the most traditional and high-powered experience. This table is great for kids, teens, and adults. 
This table required some space. It's 90 x 48 inches of playing room, but only 180 pounds. Therefore, it won't cause damage to your floors when assembled. It comes with leg levelers to make sure you have a flat surface to play on. 
This option from MD Sports features a high-powered blower. Coupled with the smooth playing surface, it allows for a competitive game. Enjoy the lights and sound effects that make you feel like you're in an actual arena. The overhead scoring system is a great touch for a fun game. 
With purchase, you'll get four pucks and four paddles. This way, you're set for anything. The main downfall is that it's more expensive than other options. 
2. NHL 84 Inch Air-Powered Hockey Table
If you're a real hockey lover, then this table is for you. Decorated with Boston Bruins and NHL logos, you'll feel like you're in a real hockey rink. This table is perfect for game rooms that are sports-themed. 
The NHL hockey table is expensive but packed with incredible features. It is a full 84 inches, which means both kids and adults can play with it. The playing area itself is scratchproof. This means that it will stand the test of time! The sturdy legs feature a leveling kit, so you always have a flat surface to play on. 
This table also has an easy-to-use automatic scoring system. There are four LED screens on either side of the table. You will also enjoy the authentic sounds of a real game with the real arena sounds. 
Play one on one or two on two. This table comes with four pucks and four paddles. It also features beverage holders and holders for the game pieces. 
3. Brunswick 7ft Air Hockey Table
This large air hockey table doesn't have the same stylistic features as the previous two. However, it's classic and large for great gameplay. Its design is simple and sleek. The main selling feature for Brunswick is the intense UL-certified blower system. This makes playing easy and rewarding! 
This table is rather large, so make sure to measure your home before purchasing. It has sturdy legs with a leveling system. The scoring system isn't automatic or digital. Instead, there are simple scoring chips on either side. 
You can convert this table into table tennis. Brunswick has a conversion top for you to switch up your game. Despite this rather modest and simple system, it is quite expensive. The unit is quite light and may move around in your home. Because of this, it isn't great for professional players, but it's a good option for families. 
4. Valley-Dynamo Fire Storm Air Hockey Table 
This table is vibrant and fun! It adds a splash of color to any room. However, despite its flashy looks, it features an unparalleled experience. This table is professional and can be played by the pros. It's one of the priciest options on our list. However, its quality and features justify the price tag. 
This table will last years. It's meant to withstand serious and intense play over a long span of time. It features a UV-coated surface that is smooth for fair gameplay. Above the field is an overhead scoring unit. It illuminates the playing area. It features LED lighting and an automatic scorekeeper. Lastly, enjoy the powerful blower motor that is the cherry on top.
Expect the Valley-Dynamo to be heavy and large. Installation can be difficult, as this unit weighs nearly 500 pounds. It's important to have a good, sturdy floor to withstand the weight. 
5. Hathaway Midtown Air Hockey Family Game Table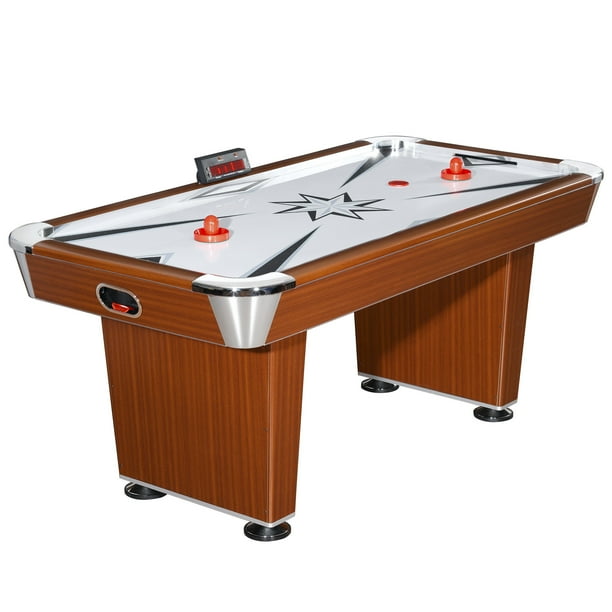 We're bringing it back to the classics with this chic, wooden design. The Hathaway Midtown will complement any gaming space with its incredible style. If you're looking for a subdued statement piece, this is the way to go. It also has a mid-price point that is comfortable for most people looking to invest in a table. 
The Hathaway Midtown is smaller than other tables at only 6 feet. It is also a light table. Because of this, it's great for kids and teens. However, it isn't recommended for intense, adult gameplay. 
The surface features almost 2000 holes and a strong blower. This keeps the puck moving as it should. It features an automatic LED scoring system for easy tracking. 
Setting up is easy. This table comes with two paddles and four pucks. For a middle-range price point, this is a great option for families. 
6. Atomic LED Light Up Arcade Table
Transform your air hockey game with in-the-dark features. Sitting at 7.5 feet, this table is a showstopper. It's sleek, yet a competitive gaming top that will draw the eyes of everyone in the room. The tabletop is fully illuminated for an extra-fun evening and nighttime play! 
There's an automatic scoreboard in the middle. This will keep track of scoring for both parties. It comes with four pucks and two paddles. It also features a powerful blower for smooth play on the surface. 
The Atomic table is extremely heavy at 400 pounds. This makes it a good option for older adults. However, it will make installation more difficult. You'll also want to ensure you have a good surface for it to sit on. However, it is sturdy and will last ages in your game room. This product is pricey, but it makes up for it in uniqueness and features.
7. Sport Squad 40-inch Table Top Air Hockey
This tabletop option is extremely price-conscious. Sitting at under $100, it is a great gift or option for people to have stored away. If you're looking for a tabletop air hockey table instead of a more competitive playing option, choose this. It's one of our favorites. Sitting at just 40-inches, it should fit perfectly on top of most surfaces. 
Despite its affordable price, it still has a high-powered fan. This ensures that gameplay is easy and effortless. You won't have to worry about airflow issues with this choice. 
Assembly is especially easy. This table is only 14 pounds, so it's easy to store away and assemble when necessary. The main complaint about this product is that it doesn't feature an on/off switch. To play, you'll have to plug it in. 
This is great to pull out on holidays when you have company over or if you have to entertain the children! It comes with pucks and paddles for easy play. 
8. ESPN Sports Air Hockey and Table Tennis
Our favorite combination board is this great option by ESPN. It's six feet long and 115 pounds. This makes setup easy and convenient (compared to the heavier options). If you don't feel like playing air hockey, you can quickly pop on the table tennis for endless fun. 
Despite the combination play, ESPN put thought into the air hockey features. It has powerful blower motors for smooth play. It also has a great LED scoring system. It will keep track of your players and even provide sound effects. 
Included in the kit are the air hockey table, levelers, tennis top, net, two balls, three pucks, two pushers, two posts, and two paddles. It has everything you need for a fun and competitive game. 
This is an excellent option for the money. Sitting around $500, you're sure to get your money's worth out of it. This is a more affordable option than purchasing air hockey and table tennis separately. 
9. American Legend Kirkwood Air Hockey Table
Say hello to one of the most beautifully-designed air hockey tables on the market. This table will add a sense of beautiful decor to your living space. It's rustic and features gorgeous wood framing and legs. 
This table sits at 200 pounds and is 84 inches long. It has a powerful blower that assists with gameplay. It even has an electronic scoring feature. 
Though this is a great option for looks, it also offers a great game. If you're worried about the aesthetic design of your home, choose this one. 
You can also check our article on the 20 Great Bar Games: The Ultimate List.
Conclusion
Are you ready to get shopping? Whether you're looking for a tabletop, combination, or arcade-style table, we got you covered. Shop from our nine best air hockey tables to find the best budget-friendly option for your game room!