Going to your local bar to play fun bar games contests has been a norm for many people around the globe. Aside from drinking, there are a lot of fun and exciting games that you can play in a bar.
If you own a bar or you just want your man cave to have the same vibe as the local bar in your area, you should know the best bar games to play. We listed down the best of the best to give you an idea of what to add to your bar or man cave.
Fun Bar Games Contests
Let's start the list with the most common table game that you can find in bars. Billiards or pool is a popular game not only in bars but also in man caves and other gaming centers. Although it takes up a lot of space, this game promotes socialization and a bit of challenge to the guests.
You can even get a little competitive by wagering something, which is usually what most people do when playing. It also adds an element of coolness and sophistication to your bar, and it attracts more people.
Eight-ball is the most popular game played in billiards, but there are other fun games that you can play, like 9-ball, bumper pool, cutthroat, and more.
Aside from billiards, Darts is one of the best bar games that you can ever play. You can play this with your friends, or you can play this alone if you want. It's not too hard to learn the rules of playing, and if you're not really up for it, you can just throw the darts on your own while enjoying a pint.
Playing darts doesn't require any real skill. As long as you can pin the darts on the board, then you're good to go. Most bars have an automated scoring where you get a score every time you pin the darts on the board. This is amazing if you're playing with your friends.
Did you know that the shuffleboards that you see on regular bars, pubs, and game centers actually have a rich history? Shuffleboard was first played in 15th century England. Most people spend their time playing this game while drinking.
The board became popular in the United States in the early 20th century, but it has reached its peak in the 1940s. If it's your first time playing, you should know how to play the game "Knock Off." It's a game where you slide the pucks down to the scoring zones or knock off the pucks of your opponents. There are three scoring zones on the table, and there is a "hanger" at the end of the table that can give you 4 points.
If there's a billiard and shuffleboard, you can't forget about the popular foosball. This is a fun and competitive game that is pretty much the same as football, but you're playing it on a table. This is a table game that can be played by up to 4 players.
This kind of game is like billiards, where you need to be skilled enough to win the game. It is not beginner-friendly, so if you're going to compete against someone with experience, you will lose pretty badly.
It's a great game, but if you want to enjoy it, you need to practice and play the game multiple times. If you don't have it in your house, you'll have to visit your local bar more often.
5. Beer Pong
This is the top bar game that you can play. Anyone can play this, and it doesn't require you to buy any expensive tables or equipment. Although not all bars allow you to play this, it is definitely one of the most fun activities that you can do.
If you've ever attended a party or a get-together, beer pong is always part of the games. There are 6 to 10 cups on opposite sides on a large table. Pour some beer into every cup. You will use a ping pong ball and shoot it on the cup. If you managed to land the ball on the opponent's cup, they would have to drink the beer from that cup.
6. Quarters
This is one of the simplest and most fun bar games that you can play. Just like beer pong, it doesn't require any equipment. All you need is a stack of quarters, a shot glass or any small glass, and beer.
Basically, you have to bounce the quarters off the table and successfully shoot it inside the glass. If you sink a quarter, you can ask another player to drink a cup of beer. If you made three consecutive shots, you could make a rule. Anyone who breaks the rule will have to drink beer.
7. King's Cup
It is another classic group drinking game that you usually see in local bars. The game is very simple, and it's a great icebreaker if there are people who still don't know each other from the group.
The game starts by having all the participants stand around a table. A cup is placed in the middle, which is also the King's Cup, filled with alcohol. A deck of cards will be placed face down around the cup, and every player will take turns in picking up the cards. Every card has a specific action that everyone needs to do. If you break the chain, you will have to drink the content of the cup from the middle.
8. Ride the Bus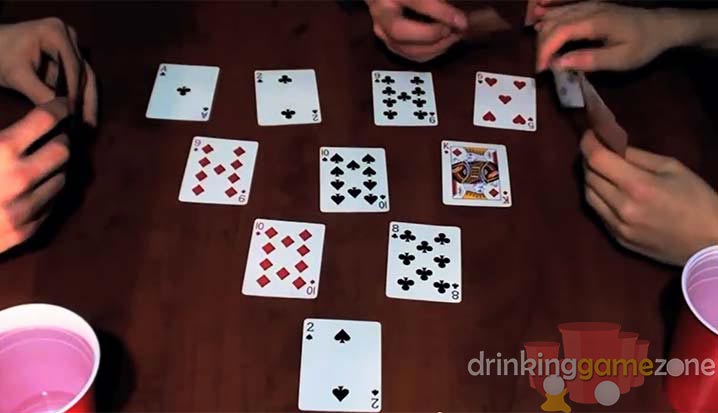 This game is a crowd favorite, especially if you want everyone to drink. This is an ice-breaking drinking game that a lot of people are playing. The game starts by distributing cards to every player. There is a total of four rounds, and the dealer will ask a question for every round.
In the first round, the dealer will ask if the card is red or black. In the second round, he will ask if the card is lower or higher. By the third round, he will be asking if the card faced down is in between or outside. For the final round, the dealer will ask the participants to guess the suit of the card (spade, heart, clover, and diamond).
If you get it right, you can distribute a drink. If you fail to guess it, you have to drink.
9. Flip Cups
This bar drinking game is a team competition, and it's also one of the best if you want an ice-breaker game. It doesn't have any complicated rules. All you need are cups, a long table, and drinks to get started.
There are cups lined up on the table, and you need to drink your cup and flip it. The next person will then drink the cup and flip it as well. The first team that can flip all the cups wins the game.
10. Dominoes
Sometimes, you don't need to move from your seat to enjoy a bar game. There are a lot of board games that are often played in the bar. One of these is dominoes.
Having a set of dominoes is the same as having a deck of cards. You can use them in different ways. You can play simple block games scoring games, and you can even try trick-taking games.
The simplest way to play this is two have two players with 7 tiles. You will take turns matching the dots, and the first play to lay all their 7 pieces will win. You can include a wager if you want.
11. Bananagrams
This game requires a good vocabulary because it's like playing scrabble. However, you don't need a special board for Bananagrams. As long as you have a table and the tiles, you can start playing it.
This game can be played by two to eight players, and the first one that would use all their tiles wins the game. Of course, they have to shout "Bananas" for the win to be counted.
12. Jenga
This is probably one of the funniest games that you can play when you're in a bar, especially if everyone is already tipsy. As you all know, Jenga requires the players to be totally focused as a single mistake can bring the blocks down.
Imagine playing this game while you're drunk. The drunker you are, the more chances of losing the game and drinking more beer. The only catch is that every time the tower falls, you'll have to pick up all the pieces and assemble them again.
If you want something different than drinking games and board games, this is one of the best games that you can play in a bar. Most modern bars already have arcades, and they are extremely popular with younger guests.
Air hockey was actually invented by engineers from Brunswick Billiards, and it gained its popularity during the 70s and 80s. The only downside is its size, so if you have a small bar or your house is too small, it might take a lot of space from the room.
Well, bars don't really mind, so if you want to try it out, you can check some of the local bars in your area. You can play this one versus one.
14. Pinball
If it's the arcade you want, then Pinball is the most iconic game that you can ever play in a bar. This game was invented by Sam Stern in the 1930s, and until today, this game is still very popular. You can see old people and vintage game enthusiasts playing this arcade and bar game everywhere.
15. Big Buck Hunter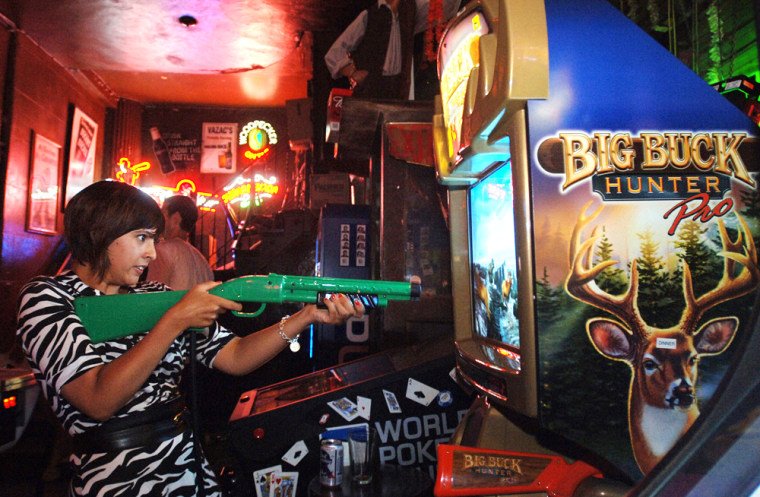 This is one of the bar games that everyone would love. When you're already drunk or tipsy, this game will prove if you still have what it takes to shoot. The original game was introduced in bars during the year 2000. It became an instant favorite, so multiple versions of the game were introduced.
It was so popular in bars that you can now watch a Big Buck Hunter World Championship. If you have nothing to do and you want to play while drinking, this game is perfect for you.
16. 10-Pin Bowling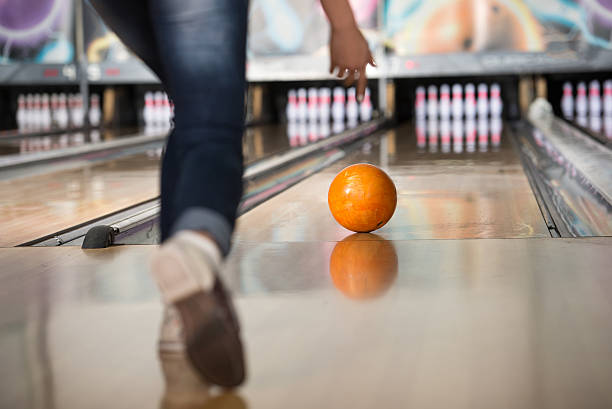 If you think that bar games only include table and dice games, then you should look for a local bar that allows you to play 10-pin bowling. This is a game that is often found on bar arcades and game rooms as it requires a large space.
This game reached its pike in the 60s, but until today, 10-pin bowling is still played by a lot of Americans every year. You can still see new bars adding this game to their venues. There are even new versions added like duckpin, nine-pin and candlestick, and more.
If you like to drink while playing, then this is for you.
17. Skee Ball
This classic bar game was made by Joseph Fourester Simpson in 1908, and it became an instant hit to bar arcades and amusement halls. Most local bars are now adding this game as it has become a trendy option for millennial people.
18. Ring Toss
This is a popular game usually found in amusement parks, but it was so good that even bars decided to add this game to their venue. This is a great game, especially if the players are tipsy or drunk. It would test their accuracy and if they can still handle alcohol after hours of drinking.
19. Pop-A-Shot
Basketball will always be a fun part of bar games, and the Pop-A-Shot is one of the best choices for you. In this game, you only have 40 seconds to score as many buckets as you can. If you can outscore your opponent, then you win the game. It is a game invented by Ken Cochran in 1981.
20. Bingo
To finish the list, Bingo is definitely a crowd favorite. This is not just a game for your group of friends. It is usually a game hosted by the bar itself. It means that everyone on the bar can participate and join the fun.
As long as the host is lively and he/she knows how to attract the crowd, the game won't be too boring. There are prizes too, so you will surely be hooked while drinking your beer.
The Benefits of Bar Games
If you have a bar and you still have some unused space, adding bar games can bring in a lot of benefits not only to you but also to the people who are visiting your bar on a regular basis. Before you disregard this, it's better to know how these bar games can change your local bar.
1. More Income for the Bar
One of the best reasons to add an arcade or a gaming side to your bar is the additional income that you can get from it. You will have to invest a little for the bar games, but you don't shell out too much.
There are a lot of bar games that don't require a lot of money. As long as you have the space, the guests can rent the area so they can play whatever games they want.
As for the arcade, they can typically use coins to play them. For board and table games, you can ask for payment for every game played.
Instead of just letting a space left unused, it is better to add some entertainment and earn extra bucks for your bar.
2. Your Customers will Love It
Your customers visit your bar to drink. They will just drink a few beers or take a few shots and leave afterward. If you have games that they can play while drinking, they will stay longer in your bar.
You have to remember that everyone loves games. This is true if there are a group of people drinking in your bar. Instead of just shouting and laughing, they can spend their time playing different bar games.
If you have an arcade, billiards, and other amazing board games, they can spend their time there and play while waiting for their drinks.
It's better if you can also give them a place to play drinking games as they please. By adding a VIP lounge or a private space, they can do all kinds of games without anyone interfering.
3. Draw a Bigger Crowd
If you have a lot of bar games in your establishment, you can expect to draw more people to your bar. This is a fact because most people nowadays prefer a place where they can do other things. In a typical bar, all you can do is drink and listen to music. By adding board, table, and drinking games, they would have more options.
You will also realize that more and more people will come to your place not only because of the drinks. Most of them will visit because of the lively atmosphere. You can see people playing, dancing, drinking, and doing other things, which would make your place more active.
A bigger crowd will also mean more income for you. They won't stay there without doing anything. They would pay for the games, and they would definitely order food and drinks while doing so.
4. More Dwell Time
One of the perks of having an arcade or game area in your bar is that you can increase the dwell time of your customers. On a typical bar, the customers will drink and leave afterward since they won't have anything else to do. If you have an arcade or game area, they will spend more time in your bar and spend more money at the same time.
5. Create Special Events
If you have a big area for your bar, you can create a gaming area where you can create special events. Take note that this is a way to gather a bigger crowd and to promote your local bar at the same time.
You can set up drinking games during the weekend with a prize. You can allow multiple teams to join and compete. If you have arcade games, you can create a tournament for the guests, which would definitely increase your bar's popularity.
The best thing about these special events is that they will help create a community in your bar. You can see regular people visiting your bar on a nightly basis, and you will notice a group of friends that are always there to drink and play. You can use social media to spread the word and gather a bigger crowd.
Having small events can make your bar or restaurant more laid-back and relaxing for many people. Not everyone likes a quiet atmosphere. Some people prefer a lively place where they can party, play, and drink.
Use these special events to your advantage. You can do it at least twice a week or you can do a regular competition if many people are visiting your bar every day.
6. Target Customer Base
Adding a gaming area to your bar will not only help with increasing the customer base. You can also target the people who are frequently visiting your bar and encourage them to invite more.
If you have an older customer base, you can use traditional games like billiards and darts to gather more people. If you want to target millennials, adding arcades and other table games will seem like a more feasible idea.
If you have a limited area, you can do your research on your place and check out the people who are always visiting bars. This will give you an idea of what to add to your gaming area.
Conclusion
There are so many fun bar games contests that you can do that would satisfy the customer base in your area. Whether you plan to add it to your local bar or you plan to create your own man cave for personal pleasure, knowing the best bar games will help you figure out what to add.
If you have limited space, the list above will help you choose the best games that you can put in your space. Knowing where to get them will also be a very important factor as they are usually hard to find and very expensive. You can check out some of the best bar games on the Internet since you can find more options there.