Are you looking to create a personal game room at home? Game rooms are the perfect place to entertain guests, kick back after a long day, and let your inner child shine through. However, in order to create the perfect space for a game room, there are some things you'll want to consider. You might have many game room ideas, but we'll help you choose one cohesive plan.
Creating Your Own Game Room
As you build a game room, think about all of the features you want. Having a concrete plan is the best way to begin. We've compiled a list of 7 steps to follow when you build your game room. 
1. Find the perfect room
Not all rooms are great for game rooms. You'll likely have different bedrooms and spaces to choose from. However, there are some things to keep in mind. Some of the most important are:
Choose a room that won't disrupt the rest of the family. Let's face it, gaming can be loud. Because of this, you want to choose a room that's away from bedrooms and shared living spaces. This way, you can get a little noisier without the guilt. If you have a basement, that's a great place to create a gaming area.
Away from the main living area. Game rooms often have a niche appearance. You may choose a theme or different decor. Because of this, it may not complement the rest of your house. Furthermore, if it gets messy, it can be unsightly. Choose a room that's separate from the rest of the house. Again, a basement is great. You may also choose a drop-down family room or an extra bedroom.
Good size. You don't want to be limited when you're playing pool or visiting with friends. Find a room that has adequate space for your activities. Decide what features you want, and accommodate that with the room you choose. 
Once you find the perfect room, you're ready to get to the good stuff. 
2. Determine a theme
To create the perfect game room, you need to have a game plan. This includes ideas and a mood board. Having a focus will help simplify the building process. Choosing a theme is a great way to set the ambiance. There are dozens of themes to choose from. However, some of our favorites include:
Do you love sports? Are you especially fond of hockey? Lean into your love of sports for the theme. To do this, decorate with framed jerseys and sports memorabilia. Add games that complement the theme, such as an air hockey table. This will also help you keep guests entertained. Consider painting the room the colors of your favorite team. 
Don't forget a big television! You'll need a place to watch your favorite sports on the big screen. Include lots of seating around the television.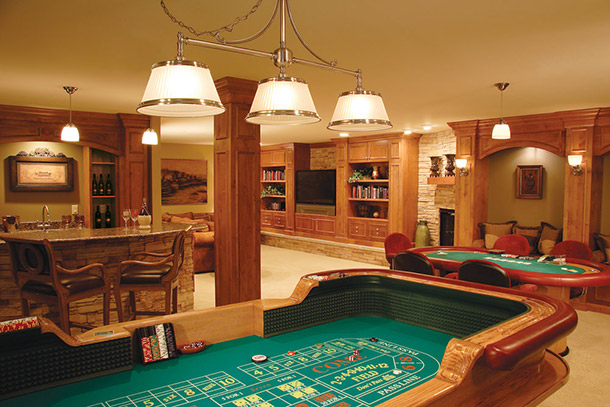 Some people love to gamble! Whether your favorite spot to visit is Vegas, or you love a poker night, this is for you. Play into moody lighting and color to set the tone. 
Add a traditional poker table to host nights with your friends. Elevate the space with a Monte Carlo theme. To do this, lean into rich colors of red, black, and white. You can add glamorous accents as well. This may include fancy chandeliers and other features.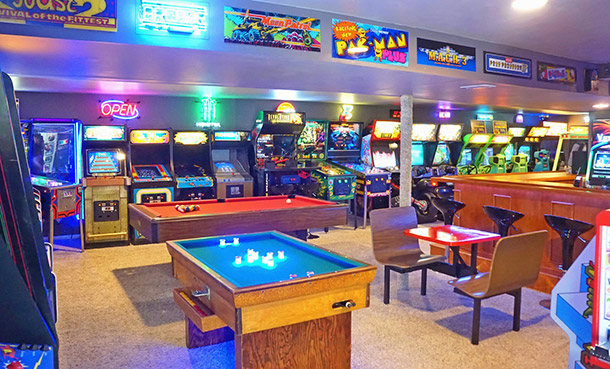 Bring out your inner child with an arcade theme! Known for neon colors and bright lights, an arcade is all of the range. Look for themed arcade games such as a pinball machine. Include colored LED lights and neon signs around the room. Get especially creative with different textures and colors inspired by the 1990s. 
Arcade games can be a pricey investment, but they are worth it. Source out different games and have fun with guests. 
There's nothing more swanky than an old-time lounge. Bring out the vintage vibes and get creative with a vintage lounge or retro bar. To do this, you'll want to include a wet bar to serve cold drinks and include additional seating. Bar stools are the best way to do this. People may gather around the bar, so leave lots of room for that. 
The vintage design may include neon signs, moody colors, velvet furniture, and a feature brick wall. Don't forget to include bistro-style tables and pull on rich, jewel tones of red, purple, and green.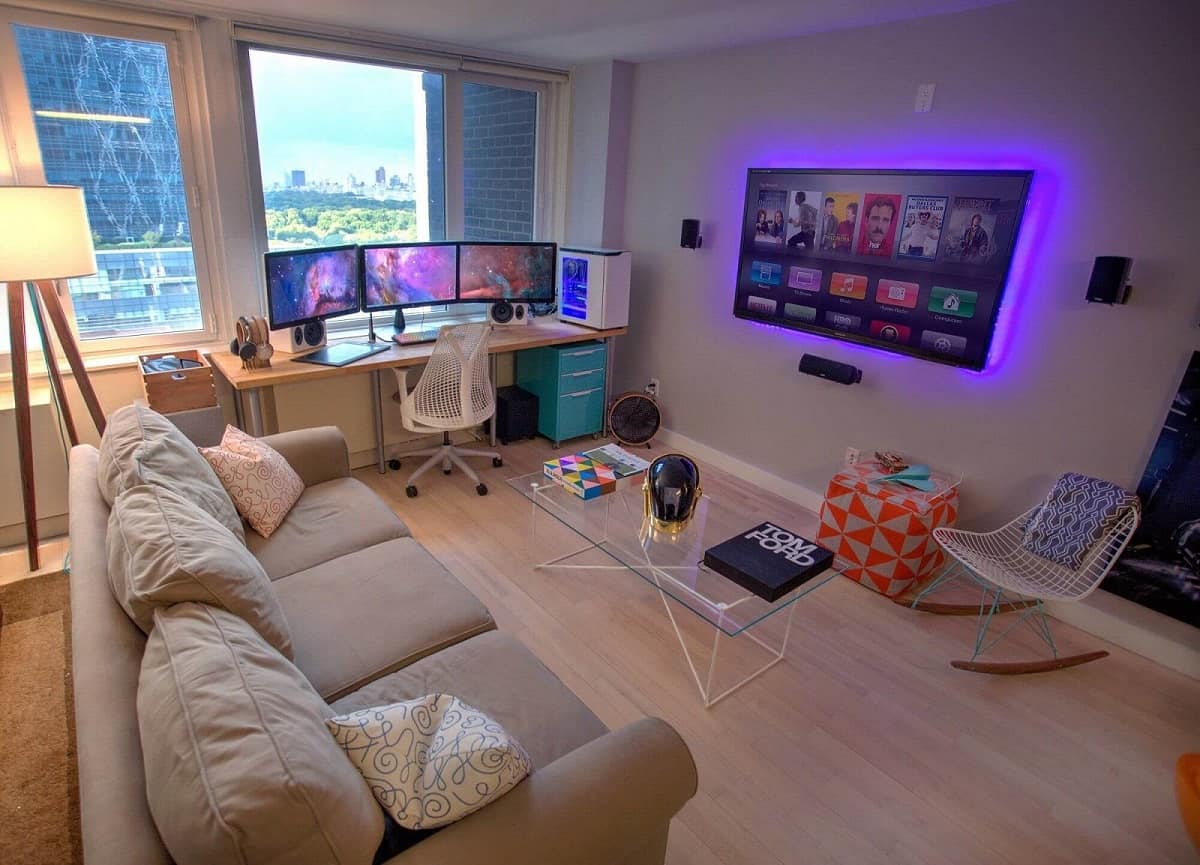 Don't miss time with family! If you see your game room being more about family time, create the perfect space. This might include neutral colors that are relaxing and inviting. Make sure to budget for an entertainment stand and television for family moving nights. 
Decorate with pictures of the family and include comfortable throw pillows and blankets. Make sure the furniture you choose is extremely comfortable. 
Is a man in your household looking for a place to invite his friends over? A man cave is a perfect place to do it. Separate it from other spaces in the house so the men can holler at the television during their favorite game. Opt for edgy features and design trends such as industrial-style decor and wood accents. 
Don't forget seating and a place for the guys to play games such as a pool or air hockey. Consider fun colors for paint and different styles that call to the men. 
3. Rough-in plumbing/electric
Depending on where you're putting your game room, it may not already have everything you need. Here is where you'll need to hire the professionals. For example, if you want a wet bar, you'll have to have the correct plumbing. Having a sink is very handy, but you'll need a technician to install it. 
For a bar, you'll want to consider what you'll need for a sink, mini-fridge, and potentially a dishwasher. The more appliances you want, the more technical help you'll need. However, carrying dishes to the main kitchen can be a hassle. Price out different options and choose whatever works best for you. 
Furthermore, include ample electrical outlets. If you want to include neon signs, an entertainment stand, and an air hockey table, you might need additional outlets. Talk to an electrician. This will ensure you don't have to worry about fire hazards or blowing a breaker. 
4. Paint, add flooring, and choose lighting
Once you've met with your tradesperson, you're ready for the fun stuff. Creating a vision is rewarding! During this step, you can decide what paint, flooring, and lighting you want. 
Paint colors that complement your theme. You may want to consider a feature wall. A feature wall will add to the mood and ambiance of your space. You can opt for many different options that go with your theme. Some of our favorite feature wall ideas include:
Murals. Bring in artwork in a unique way by considering a mural! Consider purchasing decals or hiring a professional artist to get the perfect portrait on your wall. Your mural can be of basically anything. Use your imagination and get creative!

Brick. Brick is such a timeless option that will complement a lounge aesthetic or man cave. Brick seems to never go out of style. Choose from traditional red brick or white brick. Authentic brick is expensive (and a permanent option). If you want a lower commitment and price point, choose a brick wallpaper. 

Shiplap or panelling. These two have become very popular in the last few years. They create a laid-back, farmhouse experience. If you want a cozy family room, these are great options.

Paint. For the least expensive option, choose paint. You can do a feature wall with a different color from the other walls. Paint is a low commitment, so you can change your mind and repaint when necessary. 
After you're done painting, look for flooring! Flooring is a great way to add to the theme. Consider the durability of the floor. If you have heavy items (like a pool table), make sure the floor won't dent. Some great flooring options include: 
Hardwood

Laminate 

Cork

Vinyl 

Carpet 

Tile 
Finally, once your flooring and paint are completed, choose lighting. Lighting adds to the ambiance of the room.  Play with lighting throughout the room. This may include adding LEDs, using pendants, adding lamps, or investing in a statement light. 
5. Purchase furniture
Now you're ready to purchase the furniture that you need! This part can be a big investment. However, it'll pull the entire space together. You'll want to consider how to entertain your guests and the most effective way to host get-togethers. Keep your furniture on trend with your theme. Consider organizing it in a way that encourages people to mingle and play games. 
When purchasing furniture, consider the following: 
Furniture will be a pricey investment. However, it will completely transform your game room. Make sure to set a budget and shop around. 
6. Choose decor
The decor is one of the final things you need. Choose decor items that look great in the space. This may include paintings, figurines, and other trinkets. Mirrors are a great way to make the space look larger than what it is. Again, shop around and get creative. This will pull everything together for an excellent final product. 
7. Set up 
Once you have everything you need, now it's time to set up! After your floors, lighting, and paint is complete, move in the furniture that you bought. Be mindful of placement in the room. Do what you can to elongate the space. 
Have fun with it and switch things around. If you have games added, leave ample room for people to play. For example, while playing pool, a player will need several feet to move their pool cue. 
Balance functionality with aesthetics for a wonderful look. Place furniture before hanging decor. Once everything is in its final space, you can add the little finishing touches. 
8. Use it
Now you're finished with your games room! It will probably be your favorite room in the house. Get the bar glasses clean and appetizers started. You're ready to actually use the space. 
Invite family and friends over for a small get-together. Make your favorite foods and pour your favorite drinks. Encourage everyone to play the different game tables you have set out. Now you can test all of your design work. Having an excellent, themed room in the house will make a huge difference. 
You can also check our article on the Packed-With-Fun Game Room Ideas for All Ages


Conclusion
Voila! Now you've created a personal game room with our game room ideas. Transforming this space is rewarding. Your guests are sure to be impressed when they come over. Of course, the most important part is planning. Make sure to start with a budget and be mindful of cost. Look through different inspiration pictures and ideas online. 
Once you have a set goal, it's time to build! Make sure to enjoy the space for years to come and take advantage of your customized theme room.