Are you looking to add a game room into your home? In the past several years, they have become more and more common! They offer a place to unwind and relax. Game rooms can include several different products and forms of entertainment. 
We're breaking down game room ideas for kids, teens, and adults. We'll discuss the benefits of having a game room and how to make it a special place in your home. 
Game Room Ideas
If you want to know how to make the most of an entertainment space, keep reading! 
1. Young Child 
If you have young kids, there are many reasons why making a game room or playroom is beneficial. It's great to have a safe area for your children to play. Some top reasons include:
Build independent play.

Children should learn the importance of independent play time. This will make them more confident and adventurous. Not to mention, it'll give you time to catch up on chores. If your child is very young, make sure to supervise them. However, let them take some quiet time to use their imagination.
Limits noise clutter.

Kids screaming and playing can make a lot of noise! When you have guests, you might not want to hear this in other places of your home. If you have a closed off game room, your child can express themselves freely. This will keep you headache free!
Limits physical clutter.

People that have kids will agree that they have a lot of toys. This can quickly become messy. To keep the chaos contained, a game room is a great option. This will keep your living room and kitchen looking pristine
Set boundaries between play and quiet time.

Teaching your child to switch between play and quiet or family time is important! This is a great way to go it. They can associate the game room with playtime and the rest of the house with family time. 
Ideas
There are several different ways to make a game room for your little one. We recommend getting creative and having fun with it. Lean into what your child enjoys. If they like crafts, include a craft nook. If they love to sing, add a place for them to perform. 
Customize this area to your unique child. As they grow, the game room can grow with them. Some of our favorite ideas for a young child are: 
Space for physical activity 
Playtime isn't just for mental activity, such as drawing. Getting your kids active is important too! Consider laying down foam mats for your child to play on. This will cushion the floor so they can do somersaults, cartwheels, or other activities. You can even look for a small indoor slide. This looks chic while adding additional fun to the space. 
Of course, heavy physical activity is better for outdoors. However, light activity is great in the warmth of the home. 
Was there anything more cozy than a tent as a kid? A tent creates a safe space for them. It's an excellent place to read, nap, or take quiet time. You can find indoor tents that are stylish. It will add to the decor and be functional in the home. 
Crafts are an excellent way to exercise the brain. It also isn't abnormal for students to get craft projects sent home. Having an area that can get messy is great. Maybe include a small plastic table and chair. Consider adding some storage bins of glue, pipe cleaners, and other craft supplies. 
Entertainment stand for storage 
With lots of toys comes the need for storage. Getting an entertainment stand is a great way to clean up the space. Look for something with cupboards and drawers. Teach your child to clean up their mess with a clear spot for everything. This builds responsibility and looks great! 
Bonus: an entertainment stand offers a place for a television. You can even hide a gaming console in this. It's multi-use and very functional. Having designated places to put away toys and clutter will help keep the space clean. 
Get creative and paint one of the walls with chalkboard paint! This will leave your child with a permanent chalkboard. They can write on it and erase it as often as necessary. Encourage them to draw, get creative, and write notes on it. Chalkboard paint is easy to do and looks great in almost any room. 
Looking to really transform your space? Add some fun wallpaper. You can get creative in your game room. Choose from kid-friendly wallpaper designs such as flowers, clouds, cartoon figures, or anything else. 
Don't be afraid to be bold! Wallpaper is easy to apply and remove. Do your research on the best brands that won't damage the walls. 
Encouraging your child to read is essential. Set up a comfortable, well-lit reading nook for them. Adding a bean bag chair or comfortable rocking chair is perfect for this. Include a lamp and a small bookshelf or shelf to hold their novels. Buy books that they are interested in. 
Do you have a kid that loves music or singing? Add an area where they can perform. Set up a place with their preferred instrument or a microphone. They will feel constantly supported. Also, it will give them an additional place to practice. 
Add in a colorful or functional rug. Colors are great for children's brains. However, you can also include a train track rug or another functional rug that adds to the fun. 
2. Teenager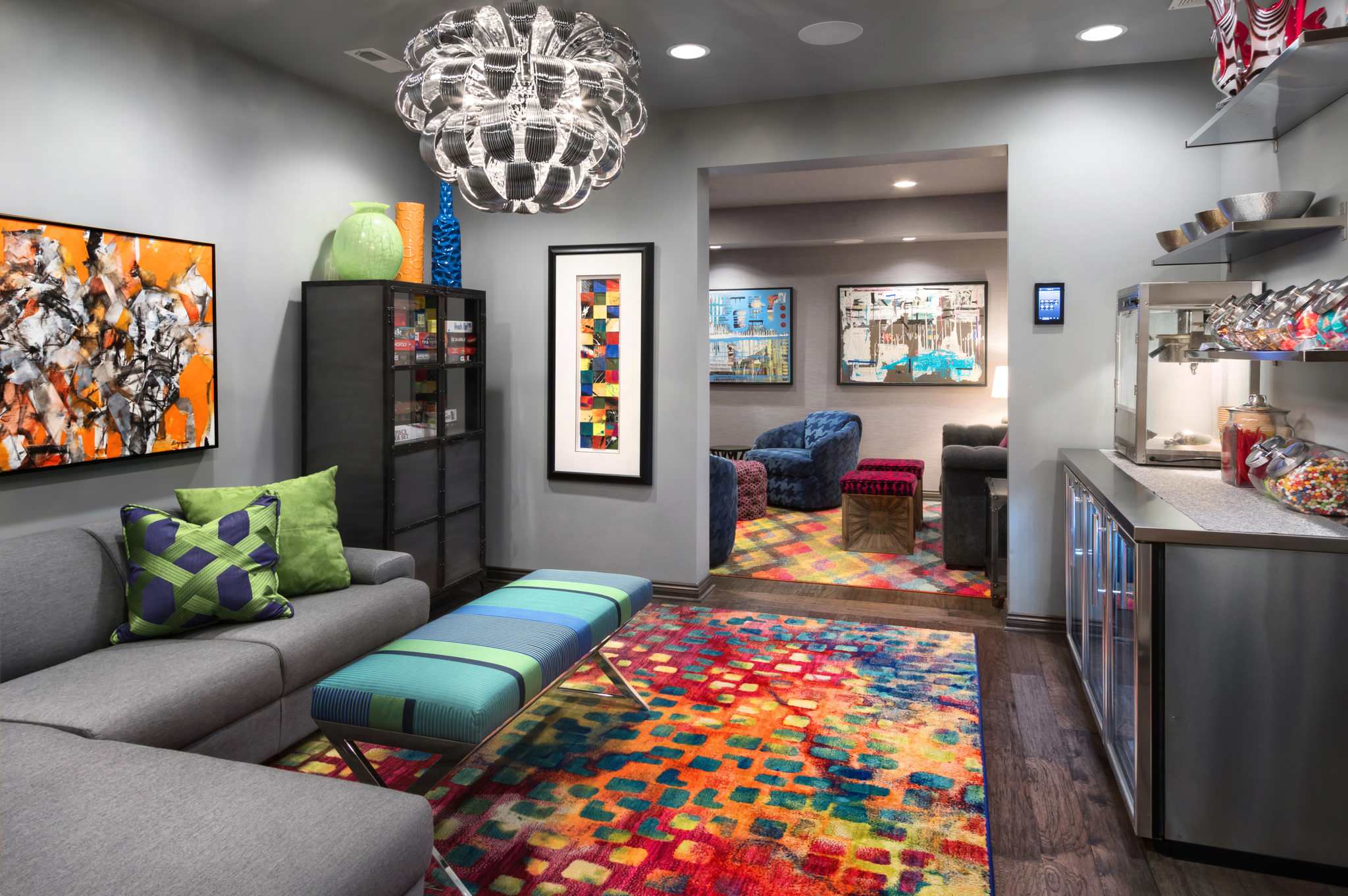 Teenagers present their own challenges. Often they are busy socializing and buzzing around. Having a designated area for a teen to feel at home is important. Furthermore, they can utilize the space to study. It will add benefits for the entire family. Some top benefits of a teenage game room include:
Privacy. 

As teenagers, they finally are able to have more privacy. You want to encourage them to take necessary quiet time when they need it. After all, adults do this all of the time! A game room can offer them a quiet place to go alone or with friends without disturbing the family. 
Minimize noise.

Have you heard teenagers play video games? It can get loud very quickly. Having this out of the main space will allow the rest of the family to go about their lives in peace.
Safe haven.

Teenagers have their own unique struggles in life. In order to face these trials, it's important for them to feel safe and comforted. Often, that may be a room or space. Create a game room that offers them a safe haven where they can go to release their stresses and problems. Being mindful of your teenager and their needs is great for building a stronger relationship. 
Spot for friends.

The teenage years are where your child will rely heavily on their friends and social circle. Suddenly weekly play dates turn into after-school hangouts. This can mean that the house gets noisier and you have guests over more often. With a game room, your teen can go there with their friend and be entertained. 
Quiet space for studying.

Exams and assignments are no joke. Just like adults, it's not necessarily ideal to bring work (and schoolwork) into their bedroom. Create a separate space where they can complete these tasks. This will help them sleep better at night, as it'll set clear boundaries in their brain.
Build responsibility.

There aren't many teenagers that clean well. This can be especially annoying for parents. Teach your teenager to keep the game room and their bedroom clean. They will be thanking you for this responsibility as they enter adulthood. 
Ideas
Looking for some cool game room ideas for your teen? There are many ways to transform the room into something your child will love. Get creative, shop around, and look up top game room ideas. Some of our favorite ideas include: 
Does your teen love sports? If they love being active, consider adding in a rock wall. It's a great workout and isn't high enough for injury. Not to mention, a rock wall adds to the decor. Creating a space that incorporates your teen's interests is the best way to make them feel at home. 
If you have a teen that loves makeup and getting dolled up, create a space for that! Your child probably wants to feel confident going into school. It's also a great place for them to store hair products and hot tools. Set up a designated vanity with a large mirror. Include a chair for comfort. This will give your teen a place to get ready to take on the day. 
Your teenager will inevitably have a lot of studying. They might hate it, but it's building their brain. Give them a safe, quiet space to study and complete assignments. Purchase a desk with drawers and storage. Keep pens, pencils, and other school supplies accessible. This will allow your child to study in a comfortable, safe place. 
Many teens love video games! They are a good way for children to bond with their peers and to pass the time. However, consoles, games, and controllers can begin to cause a lot of clutter. Build a specific station where you can hide the mess while also letting them play. This may include bean bag chairs, bins for storage, and a table for drinks and snacks. 
Humor changes differently between generations. Teens may want to watch unique television shows that the rest of the family don't love. Let them have their own television to have freedom with. This can also work well for when they have friends over. They can have movie nights where they choose their own shows. 
Use an entertainment stand for a television to hide wires and clutter. This will keep the space looking clean. It will also give more space for storage in the area. 
Encourage your children to have their friends over! It's the best way to keep an eye on your teen without making them feel suffocated. If they are social, you'll want to include ample seating for their friends. Consider a sectional couch or several bean bags for them to lounge in. 
Wall decor is important at any age. Incorporate their studies into how you style your walls. For example, if your teen is learning the periodic table in science, consider framing a large periodic table for the wall. Likewise, you can include different graphics, such as one that explains different body parts. 
This will make it easier for them to access information in the brain. Not to mention, your space will be quirky and unique. 
The teenage years are tough. Some teens struggle to fit in, whereas others may suffer from bullying. They may play sports and need reassurance. Furthermore, there is a lot of pressure on them. Incorporate inspirational quotes in the artwork around the room. This will help them get through the tough years. 
Add in a quote from their favorite athlete or actor. Incorporate sayings that inspire confidence and resilience. 
Is there anything more relaxing than a hammock? Not really. There are many different indoor hammocks that can anchor to the roof. They look chic and are comfy for your child. Encourage your teen to take quiet time or read here. 
If possible, build a loft. It is a unique design piece in any home. This can further separate play time from quiet time. Use the loft to incorporate a small mattress, chair for reading, or other elements. A loft is sure to get the attention of future buyers as well. 
Get creative with artwork. Add in a fun mural (or encourage your teen to paint their own). You can also find mural decals that are easy to install and take off when you're done. Create a fun space that speaks to your child's brain. 
3. Adult 
Adults often love having a game room for a clear, exciting place to entertain. This may be considered a "man cave" or entertainment area for guests. Regardless, you can transform your game room to reflect your needs and personality. There are many great ideas out there. Look up the perfect furniture and products to make the game room yours. 
Some of the reasons adults may want a game room include: 
Limit noise.

Just like for teens and young children, a game room can limit noise for adults. Men watching hockey games or playing pool can get loud! Let the rest of your family enjoy the quiet by having separate areas. 
Entertaining.

As we get older, many people enjoy hosting their friends or family. Whether this is for watching a game or visiting, having a designated area to do it is important. Include everything you'll need to host the best party for your friends. 
Cozy family nights.

Looking for a comfortable place to spend time as a family? A game room is perfect for that. The family can settle in and watch a movie or play different games together. 
Ideas 
To make an adult game room perfect, lean into hobbies and add elements that will allow entertaining. Make the best use of your space by considering every square foot. Be cognizant of the flooring and lighting. These will add to the ambiance of the space. Consider different themes for a cohesive space. Some of our favorite ideas are:
Let's face it: adults like to enjoy a cold beer or glass of wine after a long day. Include a wet bar to your game room. This will have a sink, mini-fridge, and a small countertop to serve drinks. It adds a luxe feel to your game room. Stock the bar with your favorite alcoholic and nonalcoholic beverages. You'll be set to host any party. 
Do you love billiards? The game is a country-wide favorite and for good reason. A nice pool table is an eye-catching piece. Not only does it look great as decor, but it's functional. Invite your friends or family over for a few games of pool and to catch up. 
Consider transforming your game room into a lounge. This may consider bistro-style tables and nice armchairs. It provides a comforting space for people to gather after a long week. Get creative with setup or get inspired by your favorite local lounge. 
Poker is another fun addition to any game room. Incorporate a poker table. This will be the perfect way to host a poker night in style. Not to mention, it'll look stylish in any room. Just make sure to work on your skills before hosting. 
Big screen tv or projector 
Don't miss your favorite sports game with your buddies! Include a big screen tv or projector. This will allow you to stream different sports games while hosting. You can also utilize this as an area to have movie nights with the whole family. 
Do you love music? Whether you play or sing, you can make a nice, quiet space to practice. Include the instruments you play and take some time out of your week to work on your craft. 
Game Room Themes 
Depending on the age of who the game room is for, there are many different great theme ideas that you can incorporate. Some of our favorite themes are: 
Music.

Add posters of your favorite musicians and artists. Consider including a karaoke machine, record player, or sound system. You can turn your space into a place to enjoy music at your own pace.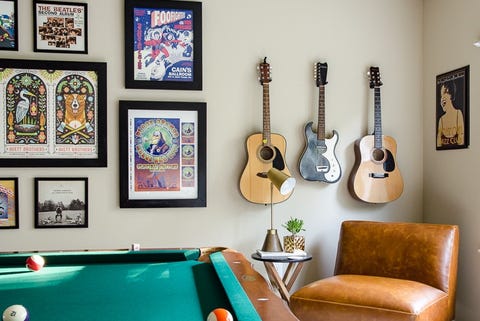 Sports room.

Get creative with a sports room! If you are an athlete, or if you just love a good game, this is an excellent option. Display sports memorabilia around the room. Hang jerseys and other prized possessions on the walls. Have a large television for game nights and include a pool table or foosball table to play games on. 
Retro lounge.

Are you looking for a swanky space to entertain? Consider styling a retro lounge or bar. For this, purchase vintage or retro furniture. You can often find this at thrift stores. Make the lighting moody and inviting. Have music playing in the background.
Theater.

Don't miss quiet movie nights at home with your family. Transform your game room into a movie theater. Include comfortable seating (reclining is best). Also include a projector, dim lighting, and even a popcorn machine. This will be even better than paying to watch a new release in a movie theater.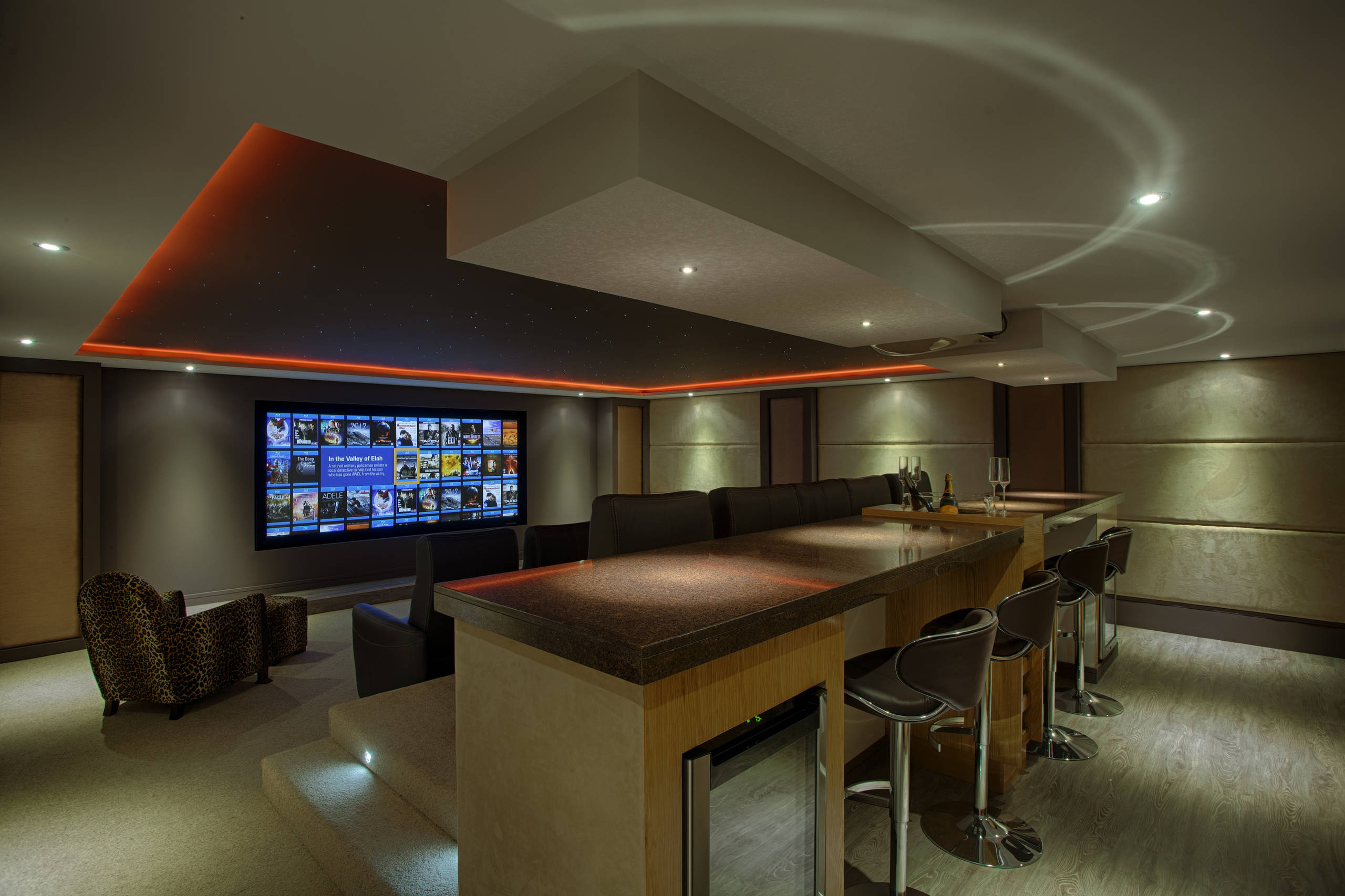 Arcade.

We all love arcades at any age! Consider creating an arcade in your game room. Source out old-school arcade games such as pinball. Play with lighting around the room. This will be the perfect place to unleash your inner child.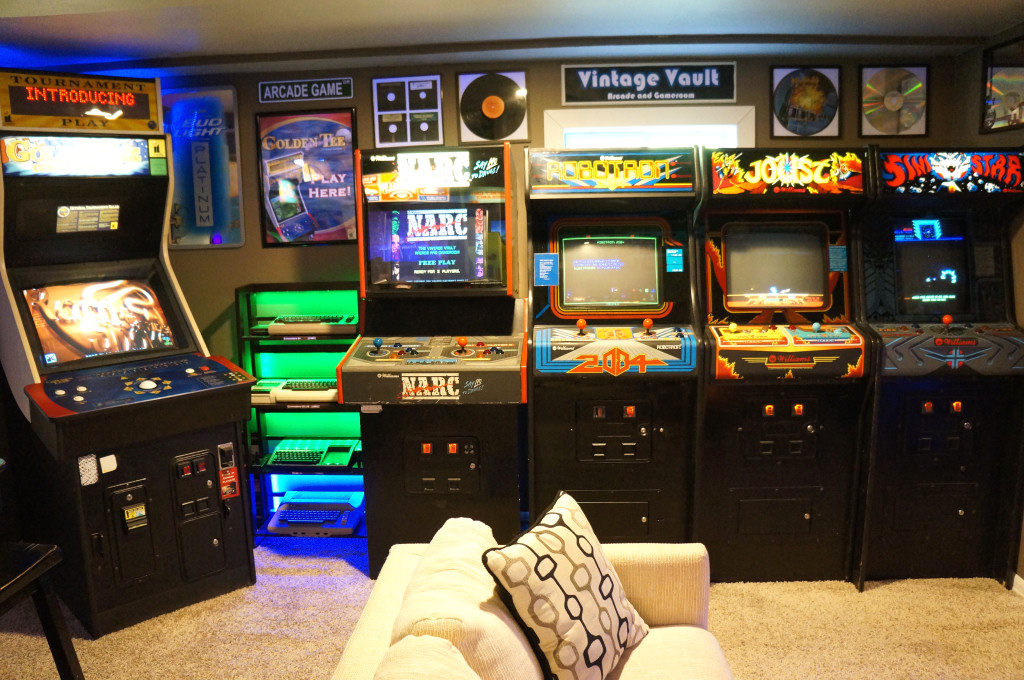 Library.

If you're a big reader, then including a library in your home is a great idea. Line the walls with bookshelves and stock your favorite books. You'll never run out of reading material. Also, there is something posh about an at-home library.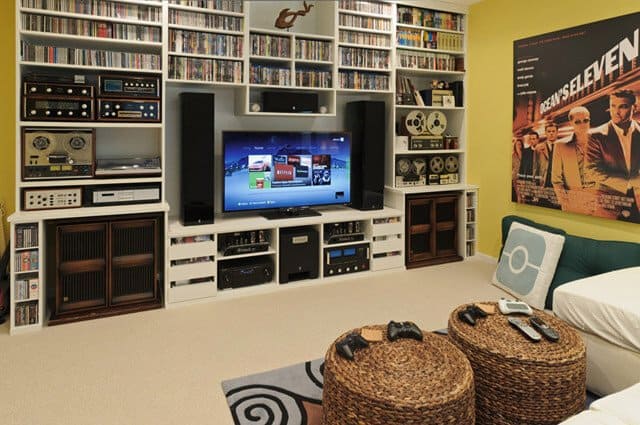 Light and bright.

If you're a nature lover, make the space light and bright. Do this with lots of natural light, neutral colors, and plenty of plants to fill the space. This will make your game room seem welcoming and invigorating. The plants will also help filter the air for clean breathing. 
Conclusion 
Are you ready to turn an extra room into a functional and inviting game room? If done right, this will be the most loved space in the whole room! Get creative and try different themes and styles to personalize the space. Regardless of the age of the person using the game room, there are plenty of awesome game room ideas on the internet. 
It's always the right time to customize your space to best fit you and your family! We hope that this article provided some valuable insight in how to change up your game room.