Gaming rooms are no longer just for children, millionaire playboys, or video-game obsessives. 
Our modern working lives bring with them unique challenges. More and more, science stresses the mental health benefits that come from having that antidote, that release: the distraction, the de-stressing, the social element, the endorphins.
Whether you find yours blasting aliens with friends online, or whether it's a beer and some foosball, having that outlet - whatever yours may be - is absolutely essential. 
But, if you're here, I'm guessing you don't need the hard-sell on the benefits! No, what this article aims to do, is give you a helping hand making the games area you've always dreamed of. Firstly, using our experience to highlight a few things you need to consider when planning yours. Things you may not have necessarily thought of yourself. Then, sparking your imagination off with 7 cool gaming room ideas for you to use or adapt for yourself:
Things to consider 
Your gaming space is your little home-away-from-home. A place you can go to let off a bit of steam, chill or for a bit of a social. You need to consider what you will be mainly using the room for before you design it. Is it a gaming room where you'll be on the computer, so seating only needs to cater for you? Or will you be hosting poker night, and need to have plenty of seats and easy-clean floors? 
These factors will be crucial in the ambience and décor you go for.
You need to marry functionality and comfort, and many like to use the opportunity to build a showcase for their personality and passions. A reflection of who you are. 
Consider the space and size you have 
If you have a smaller area, then work with what you have. Lean into it- if you are playing computer games, make the focus on having an immersive sound and visual experience that actually makes a benefit of the room's dimensions.
If you have a large place, you won't want it to feel empty, so you'll need to consider that when choosing what to buy, and what goes where.
The sound and visual experience
This is the fun part! 
Again, consider who/how many will be using the room and cater to their needs with your choice of sound and visuals.
Is a computer screen and standard size TV enough? Do you need to get a big plasma so everyone can see? Or even a projector?
Do you need speakers surrounding a console or around the room?
The sound and visuals are crucial components that enhance your gaming experience and enjoyment, and a little sensible consideration for their practicalities really pays off when it's all finished, believe me!
Sound-proofing: better safe than sorry!
This place is your haven, your happy place, but you'll often have to consider the outside world in your planning too. Upstairs flats, your neighbors, other members of the family. Whether it's pool with your mates or video games, when you are really letting go, things can get noisy! And that's exactly how you want it! A few easy steps can ensure you can have all the fun, without feeling like you have to hold yourself back too much with decibel level.
You can go the whole hog and get professional soundproofing, but there are other more accessible options, like insulating foams or rubber paneling. It all depends on you, your situation and your room's needs, and - of course - your budget.
Which lighting do you need?
Much like the sound and visual, the ambience from your choice of lighting is a crucial aspect in the atmosphere of the whole room. Are you looking for subtle lights that don't interfere with your gameplay? Ambient lighting usually works best here.
Or have you a bigger, brighter space and more people to worry about? These are factors you need to think about too.
The wall can be a useful ally in the design of your room. You can use it for storage. Sound-insulation. Or the reflection of you and your tastes, with art you love or other pieces to underline your chosen theme.
A more practical consideration, but that's not to say it can't be fun! 
Do you need a recliner that can handle you twisting and writing on it for hours on end? A big sofa for groups to watch films? Or are a few barstools around the games table more suitable? 
What are cool gaming room interior design ideas?
What style? 
1. Minimalist
Get rid of the clutter; just you and the necessities. This can be a good choice if you don't have a massive selection of accessories to go along with your choice of gaming.
2. Futuristic
This one ties in nicely if it's a console-focused gameplay area you've got. Go the whole hog with sleek décor to do your hardware proud.
Choose a theme.
3. American bar-room style
Pool table, fridge, and big-screen sports in the background?
4. Star Wars theme
I'm thinking…lightsabers for lamps, life-size Leia cut-out in the corner. It promises to smell like Jabba The Hunt on Sunday morning too.
5. Retro
Pac-man, Super-Mario, Street-fighter, to tie in with the game play? Reflect your passions.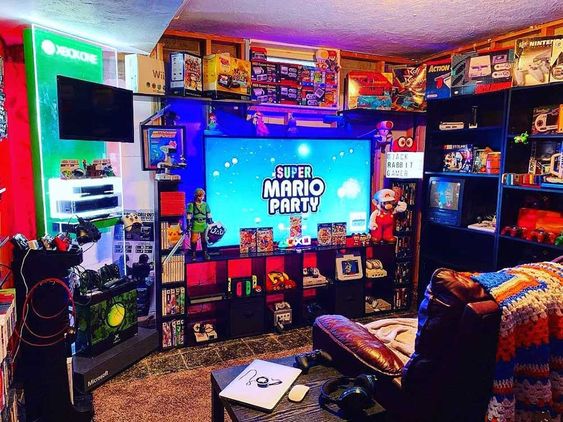 6. Use it as a library/showcase
For a collection of books/memorabilia/DVD's/video games?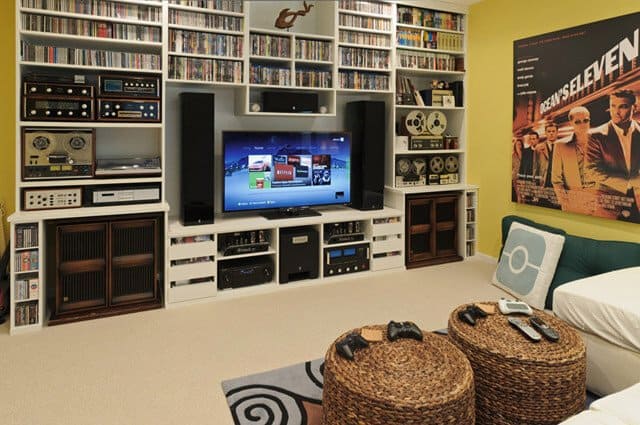 7. Go all-in with the light and visuals
Ground-shaking sound effects with your "Call Of Duty". Surround sound for your tunes as you play pool. We are straying into 'Millionaire Playboy' territory a little here, but if you have the budget, and you want to really elevate the game-playing experience, then why not?!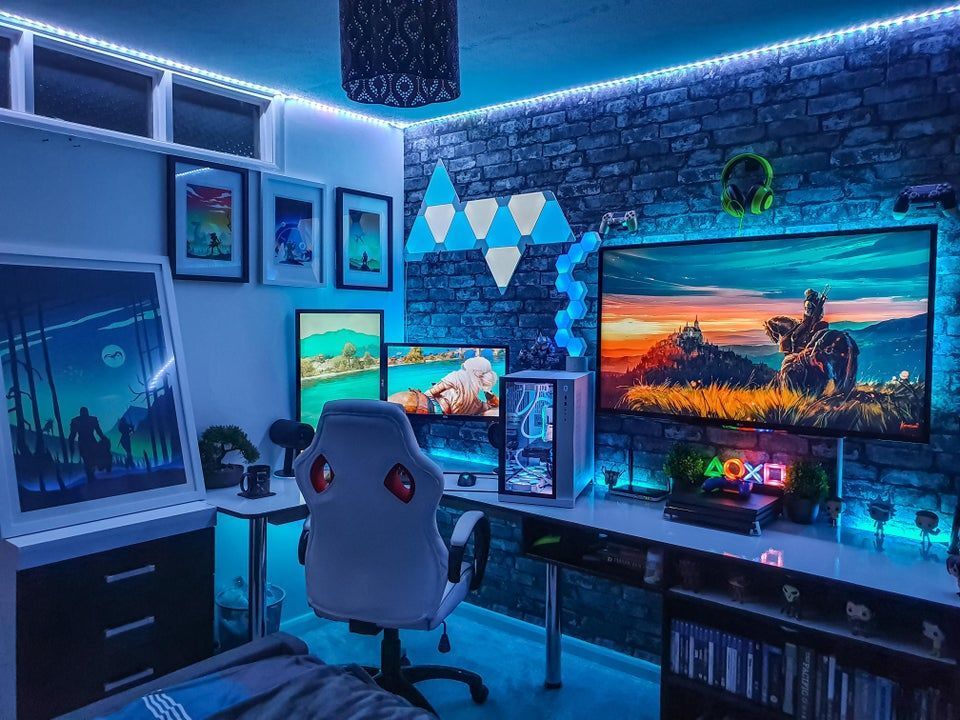 You can also check our article on How to Create a Personal Game Room at Home.
Conclusion
Whatever size of room you have, whatever your budget, your gaming room is not only a fantastic little getaway but a real opportunity to feel as comfortable as can-be and really stamp your personality on things.
When you have nailed down the style and layout that best suits the needs of your gaming room, let us help you make that dream a reality. From basketball hoops to billiards, ping pong to poker, whatever gaming room ideas you have, we can help realize them. But don't just take my word for it, check them out at The Game Room Plus.